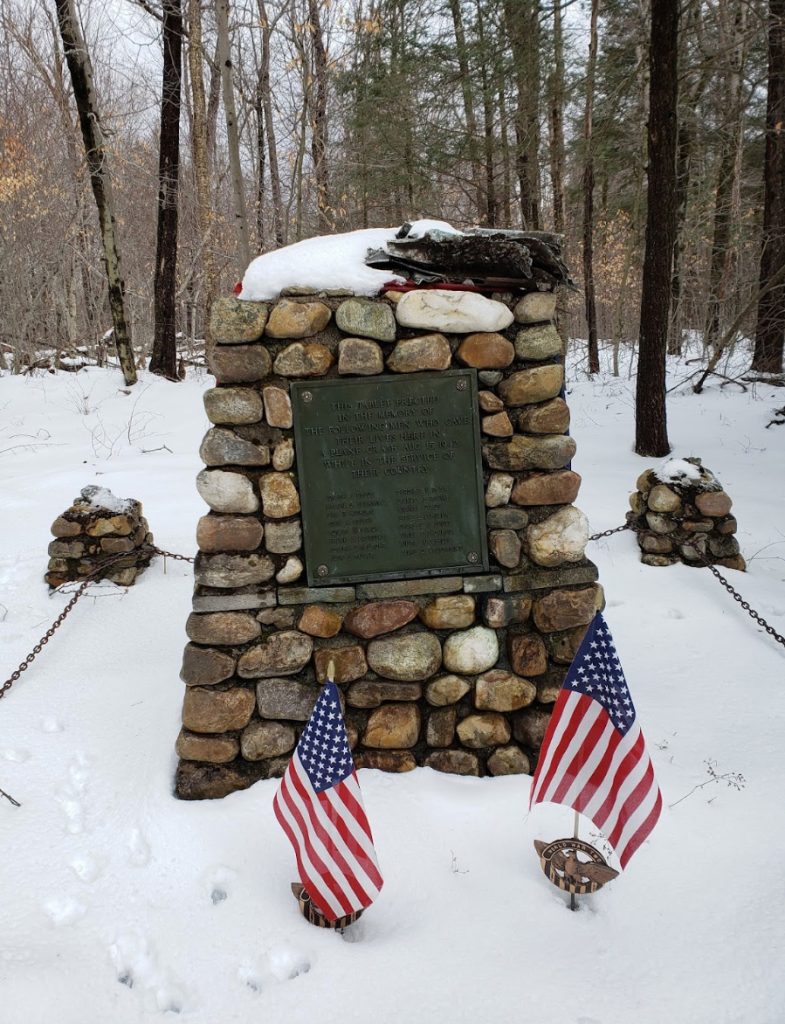 Garnett Peak memorial to the survivors of the August 15, 1942 plane crash
This monument was erected on Garnet Peak, on the spot where 13 paratroopers died on Aug. 15, 1942. The Army Douglas C-53 transport plane was heading for Rhode Island when it strayed off course, lost in a summer fog. It skimmed the tops of the trees of the 2,200 foot mountain and went down. Of the 16 paratroopers on board, only three survived.
Matty Bishop, a Peru air raid warden, saw the crash from her perch in a spotting tower, according to a report later issued by the state's Committee on Public Safety. Her sons organized a search party of town residents. As they headed into the woods, they heard a signal shot from the plane and responded with a shotgun blast into the air.
Only one of the soldiers was still able to walk when the rescuers arrived, and the three survivors were badly injured. The plane had sliced through 60 yards of woods, clearing a 60-foot-wide trail.
In the intervening decades, the woods have healed that scar, and the only remnant is a slight thinning of the trees and a touch more sunlight, just enough to keep the ferns away.
The spot was first marked with a wooden cross, and the townspeople raised money for the more permanent memorial, which was installed in 1946. Sara Adams remembers attending church dinners for the monument as a girl, when she heard stories from her father, Edward Shuttleworth, of his night among the search party. At the time, this crash was the third worst in America.(Sources include The Berkshire Eagle – May 25, 2008)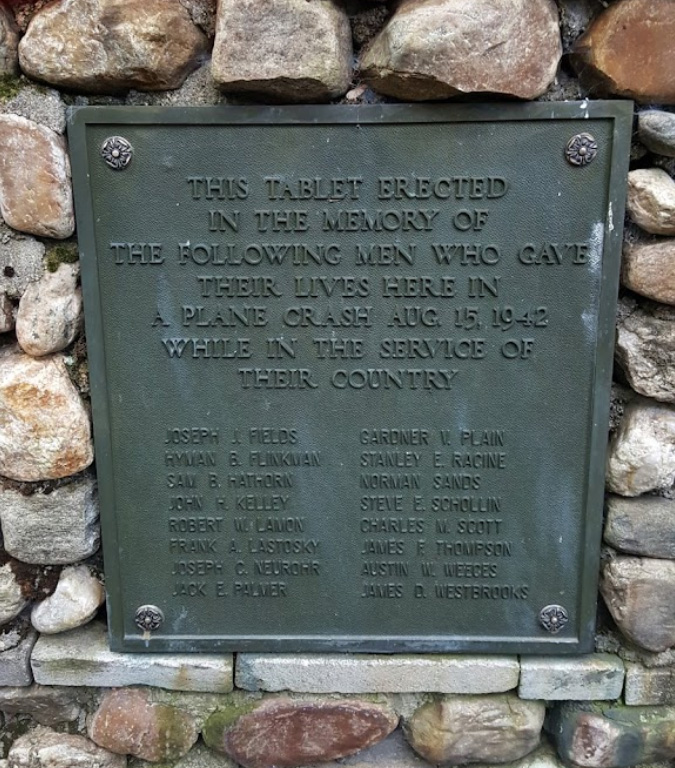 http://www.berkshireeagle.com/localnews/ci_9374534
Dear DCR,
On behalf of Friends of Peru State Forest, thank you for your help in making the Remembrance of the 75th Anniversary of the Garnet Peak Plane Crash in Peru, MA a success one week ago on August 15, 2017.
---
Peru residents remember paratroopers lost in 1942 plane crash on Garnet Peak
By Patricia LeBoeuf, pleboeuf@berkshireeagle.com
Aug 15, 2017